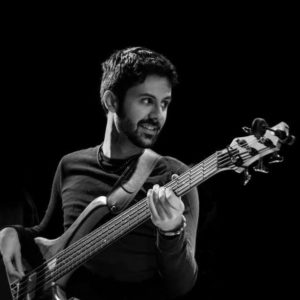 Milan Kozovski is a graduate from Humber college majoring in a Bachelor of Music with a focus on the electric bass. He is a mainstay in the Toronto music scene having performed professionally for most of his life. He is now looking for new opportunities to teach students of all ages and skill levels.
Milan picked up the electric bass at 13 years of age, he decided to pursue the instrument full time to further his education in music by attending Humber College. He graduated from the Introduction to Commercial Jazz program in 2012, earning a certificate upon graduation. Following this, he enrolled and consequently graduated from the Bachelor of Music program, specializing in the electric bass with a minor focus on the upright bass in 2016. He also took piano lessons in the Royal Conservatory of music beginning at the age of 7, receiving his grade 4 certificate.
Milan has been teaching electric bass privately since 2011, and has experience teaching level piano, upright bass, and guitar. He also has in-depth experience teaching theory, and aural/ear training. He is also able to read and write music. He has experience teaching a wide variety of ages and skill groups.
Featuring a background playing in various genres including, but not limited to: RnB, Funk, Rock, Jazz, Pop, Fusion, and more. He has played in bands such as Bassline (funk), Jade Mya (country), Nele Karajlic and Zabranjeno Pusenje (Rock), and more.
He has studied under such luminaries as Mike Downes (head of the bass department at Humber), Gordon Sheard, Jon Maharaj, Neil Swainson, Pat Kilbride, Rich Brown, Anthony Panacci, Marc Rogers, and more.
Milan is looking for an opportunity to take the next step into teaching professionally, and is eager and excited to work with students of all skill levels and age groups.