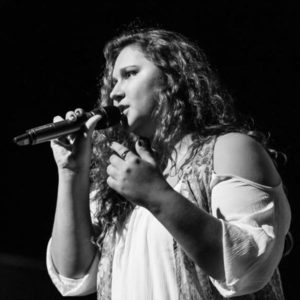 Jessica Frangini-Salvo is an outgoing and engaging young songwriter and performer based in Toronto. She recently recorded an album with her group, The Sky Valley Band, which to her excitement is generating a loyal following. She is currently working on an EP with her other band, MajOrJam. Growing up in the small town of Port Perry, Ontario, Jess listened to a lot of classic rock and country. Since moving to Toronto to attend Humber College she has been able to indulge in different genres. She likes to sing all genres but focuses mainly on soul (voices similar to Joss Stone or Rachelle Farrell).
Being at Humber, Jess has had the privilege of working with some well known artists, such as Denzal Sinclaire, Yvette Tollar, Lisa Martinelli, Shannon Gunn, Collin Barrett, Waleed Abdulhamid and the late/great Christine Glen-Coussee. She believes that music is important to learn or be introduced to early in life because it can be very therapeutic and help express/channel creative thoughts and emotions. She loves all things music and believes everyone should have more of it in their lives.
This past year, Jess was honoured with the "Girls Night Out Jazz Award", collaborated with Snarky Puppy, performed with Masini McDermott, showcased in multiple festivals (including the Sarnia Music Festival), sang back ups for Toronto's well known indie-pop band, Valley, and is looking forward to collaborating with many talented musicians in the near future. She hopes to teach her students all that she possibly can.