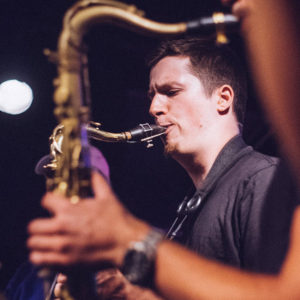 Conrad Gluch is a jazz saxophonist and multi-instrumentalist born and based out of Toronto. He is now in his final year of study at the University of Toronto, completing his bachelor's degree in Jazz Saxophone Performance.
Over the course of his university degree, he has performed with the University of Toronto Jazz Orchestra and small ensembles run by David Occhipinti, Chase Sanborn and Will Carn, as well as "Oakland Stroke", Chelsea McBride's "Socialist Night School" and "Chelsea and the Cityscape". He has studied under Daniel Jamison, Mike Murley, Kelly Jefferson and John Johnson, and has performed with the latter three. He has also performed with David Liebman, Jerry Bergonzi and Mike Holober.
Although Conrad is still in school, his professional career is well on its way, as he is on call for "Art of Time Ensemble" and "Carn Davidson 9", and has recorded albums with "Socialist Night School", "Closed Circuit" and the University of Toronto Jazz Orchestra.